The term "menopause" refers to the period of a woman's life during which her ovaries gradually produce fewer eggs and less of the female hormones estrogen and progesterone.
Many women experience physical and psychological problems due to the decrease in hormone production, which causes periods to become irregular until they stop entirely. Treatment and lifestyle modifications may be recommended depending on the severity of the symptoms and the risk of developing other health problems.
At Nisha Women's Hospital, Dr. Himali Maniar, one of the leading gynecologists in Bopal, Ahmedabad, provides effective and result-oriented menopause treatment. Due to her expertise and efficiency, her patients prefer and recommend visiting Nisha Women's Hospital to treat menopause or other gynecological issues. Hence, the hospital is also considered one of the best menopause clinics in Ahmedabad.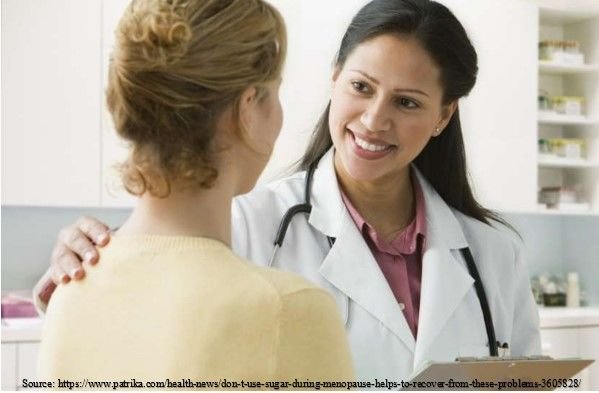 Continue reading this article to learn more about menopause, its causes, types, symptoms, and treatment.
What is Menopause?
Menopause is a natural part of a woman's aging process, and the term means "final period." When a woman has undergone a year without having a period, she is considered complete. Often, menopause, known as "the change of life," generally occurs between 45 and 55 years.
What Causes Menopause?
A woman's ovaries carry a lifelong supply of eggs when she is born. Each month after adolescence, the ovaries begin to release eggs (ovulation). It causes the ovaries to generate estrogen and progesterone, which causes the endometrium (uterine lining) to thicken in preparation for the implantation of a fertilized egg. The endometrium is lost, and a period begins if an egg is not fertilized. The entire process is termed the menstrual cycle.
Menopause occurs when the ovaries stop producing enough hormones to drive the endometrium's monthly growth, and periods stop permanently. It may take several years, from the onset of symptoms to the start of menopause. The medical term for this period is climacteric or perimenopause.
Following menopause, a woman's risk of coronary heart disease (including high blood pressure, heart attack, and stroke) rises to the same level as a man's. The chances of having osteoporosis (bone thinning) are also higher.
What are the Types of Menopause?
1. Natural Menopause
Natural menopause occurs when estrogen and progesterone levels naturally decrease.
2. Premature (early) Menopause
When periods stop before the age of 40, it is known as premature (early) menopause. It can be caused by various factors, including medical problems such as diabetes or hypothyroidism or surgery, or drugs that have harmed the ovaries' blood supply.
Premature menopause can occur in families. Thus, genetic factors may play a role. Women who smoke are more prone to have early menopause. However, there are situations when there is no apparent cause.
3. Artificial (surgical) Menopause
Artificial (surgical) menopause occurs when both ovaries are surgically removed or when some cancer therapies damage the ovaries. Artificial menopause causes a rapid reduction in hormonal levels, resulting in the onset of menopausal symptoms. Frequently, symptoms are more severe than those associated with menopause, whether natural or premature.
What are the Signs and Symptoms of Menopause?

A change in bleeding patterns is frequently the first sign of impending menopause. Periods may become lighter or heavier, longer or shorter, the duration between periods may lengthen, and periods may be missed. Some women experience these changes gradually, while others experience them more quickly.
Menopause is also related to a wide range of physical and psychological signs and symptoms. They can be relatively moderate in some women and severe in others. They can endure anywhere from a few months to several years. Three to five years is the typical time it takes for menopausal symptoms to appear.
Following are some physical signs and symptoms to look out for:
Sweating
Hot flushes
Dry skin
Tiredness
Joint pain
Headaches
Palpitations
Hair thinning
Abnormal skin sensations
Vaginal dryness
Incontinence
Urinary tract and vaginal infections
Psychological signs and symptoms may include:
Anxiety
Loss of confidence
Less interest in sex
Difficulty in concentrating
Depression
Irritability and mood swings
Forgetfulness
Difficulty in sleeping
How is Menopause Diagnosed and Treated?
In most cases, menopause is not a physically strenuous condition. In rare situations, the symptoms may interfere with routine activities, necessitating treatment.
A blood test for follicle-stimulating hormone (FSH) is used to diagnose it. If FSH is elevated, menopause may be indicated.
In most situations, general dietary and lifestyle changes are adequate for treatment. If this does not alleviate the symptoms, estrogen replacement is done by hormone replacement therapy (HRT).
Vaginal lubricants are available to help with vaginal dryness.
Antidepressants are used in appropriate quantities to treat mood swings.
Please book a consultation with Dr. Himali Maniar, one of the best gynecologists in Ahmedabad, India, if you are experiencing acute discomfort due to menopause symptoms.